Misiones de California Winery
We are often asked from our guests what wineries do you recommend in the area. It is like asking what is your favorite Beatles song. There is just so many to choose from its hard to pick a favorite. So you have to answer with your top 5 favorites and even that changes like the wind when visiting new vineyards.
Misiones de California Winery has always been in our top 5. If you looking for a young, hip, happening, cool design, with loud music and quick turnover tasting, this is not your place. If you looking for winery where the owner greets you and sits with you explaining everything about his /her wine and doesn't look at the clock to push you away for the next group tasting; a winery that is small, very simplistic in it aesthetics, rustic,  and true to the art of wine making….this is your place.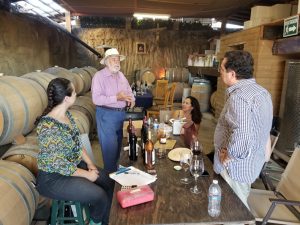 Raul Velasco is the owner of the Misiones de California Winery. He retired to the valley some years ago to learn more about his hobby of wine making. Purchasing the land and growing the grapes, Raul starting learning about the chemistry of wine and the art of producing an extraordinary line of wine. Years of trail and error perfecting the perfect blend of grapes to create one of our favorite wines, Vino Tinto. 
You wouldn't think much about the wine looking around the small cave and vineyard property. Like everything in the valley, you drive up some dirt road for a bit and then all of a sudden there is a building or a field you cant see from the highway,  this is no exception. Right off the light on Route 3 in San Antonio, is a dirt road that leads you to this vineyard that mimics an old missionary design. The wine storage area is build into a hillside where the ground itself keeps the wine at cool temperatures. Its that same storage area where the wine tastings are consumed.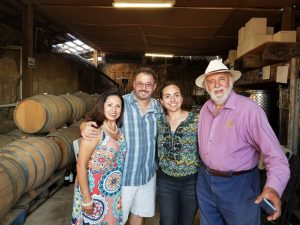 Its a quaint, small winery but full of lots of great wine that you know has lots of TLC in every bottle. When Raul is busy with other guests, Sofia is there to bring her expertise to the family run business. Just like Raul, Sofia is very versed in the wine making process and is very proud of the product they produce.
Not only will you walk away with a great tasting, and a wine education, but you will also get to taste the preservatives and spreads that the property produces. Raul wife creates preservative spreads that is used to clean the pallet between pours. These preservatives are available for sale and you will not be disappointed. 
Misiones de California Info
Address: Villa de Juárez, Baja California, Mexico
Phone: 52 646 156 8273
Directions
Facebook
Wine Tasting Hours: 11am to 6pm, 7 days a week
Tasting Fees: $200 pesos Groups 8+ require reservations
Email: ranchovelanco@gmail.com
---