Spending time with people has always been a true enjoyment for us.Our friends have said that we missed our calling to be in the hospitality property Our dream, one day, was to have a vacation home where we can get away from the hustle and bustle of everyday city life, and eventually retire We've entertained exotic locations, such as the Mediterranean regions of Italy, Spain and Portugal. What we didn't imagine , was finding a hidden gem that was much closer.
It was in early December 2018 when we decided to take a road trip south of the border to a place where we had never been…Ensenada. During this trip, we came upon Valle de Guadalupe, a vastscenic region full of vineyards and boutique wineries. We immediately fell in love with the area.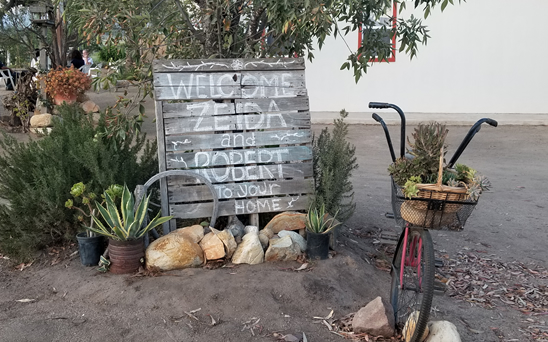 It didn't take long for us to return, this time to explore and experience the valley with friends. It was then I asked Zeida if she would like to take a different kind of trip, one where, rather than exploring as tourists, we would be exploring as buyers of real estate. The smile on her face was priceless. The reality of owning and retiring in her home country had set in.
We looked at many properties during our visits; only one property stood out from the rest. Located in the heart of Valle de Guadalupe, we were instantly attracted to its size and gorgeous views as it sits perched a top a hill, overlooking the valley. It had only been nine months from the day we first visited Ensenada to the day we took over the property. We both knew this was going to be our future home. The question is, what do we name the new retreat?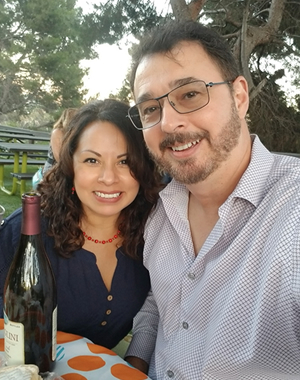 Zeida's home town is known for the Monarch butterflies coming to breed. My origins are in the Italian heartland or 'terra' for land. Fusing the two cultures of Mexico and Italy into this new child of ours, "Terra Monarca" was born.
Terra Monarca has a rustic, classically Mexican beauty and is comfortable and relaxing. Our vision is to improve upon its beauty with gradual improvements over time to further enhance our guest's experience. For us, it is truly a dream come true. We hope our guests feel the same "Ensenada lightning bolt" that struck us and continue to make Valle de Guadalupe a special place to return again and again.
We have plenty of work to do on the land to transform our vision into reality for both our future retirement and our guests. As Zeida says in many posts on Facebook, it is a dream come true. We hope our guests feel the same Ensenada lightning bolt that struck us and continue to make the valle de Guadalupe a special place to come back too.
Zeida was born and raised in Mexico.Zeida's company relocated her to Los Angeles. She dedicates her time working at a nonprofit helping less fortunate families. Bobby was born and raised in New Jersey. The cold winters and humid summers of the Northeast drove his relocation to the warmer and dryer Southern Californiaregion. For decades, Bobby has worked in the IT business, currently for a movie exhibitor company.
Zeida and Bobby eventually met, fell in love, and married in Los Angeles. They are dog lovers, and the dogs pretty much are there children.
We hope to personally welcome you to our new sanctuary.
Bobby & Zeida